IT Equipment Recycling and Secure Data Disposal and Destruction with ICT Reverse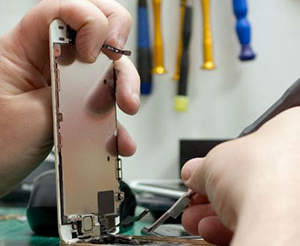 The fast evolving technology landscape, teamed with the immense pressures on organisations to adopt greener processes, means many are faced with the challenge of disposing of their out dated tech to stay ahead, whilst still ensuring sustainable operations to minimise their impact on the planet.
But as protecting your data has never been more important, you'll need a trustworthy company to take away not only your surplus electronics, but the stress and concern of whether your data has been securely erased and will be recycled where possible at every opportunity.
Our award winning, fully accredited IT recycling facility will ensure your devices are disposed of to the highest security standards, so your data stays yours.
And as sustainability is one of our core business values, we're committed to ensuring all of our operations are WEEE compliant and contribute to a better environment, preventing unnecessary landfill and reusing or re-purposing equipment wherever possible. That way you know your old data-bearing equipment is safely disposed with the sanctity of our planet in mind.
We'll handle the whole process, from start to finish, with complete traceability along the way.
Why Choose ICT Reverse for Your IT Recycling Needs?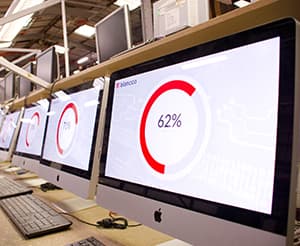 At ICT Reverse, we believe in sustainability and in reducing environmental impact, so we're committed to recycling IT equipment, including mobile phones, in an eco-friendly way.
We operate a zero percent landfill tolerance policy and work with Circular Computing which means your laptop disposal could result in 5 trees being planted for every laptop collected. Find out more about our sustainability partnership here.
We also understand how important peace of mind is, especially when it comes to data security. It's therefore crucial that you find a trustworthy IT recycling company to dispose of your IT equipment in a secure manner.
As one of the market leaders in reverse asset management, we hold the necessary licenses and permits to securely collect your hardware and data-bearing items from any international location, as well as process, treat and dispose of any redundant equipment.
We provide dependable and safe reverse logistics and data erasure services that are backed by our many accreditations, such as our ISO 9001 and 14001, 27001 and Cyber Essentials Plus. These accreditations show our dedication to staying ahead of the strict requirements of the IT disposal sector by providing the best services possible.
We can also offer on-site audits, decommissioning, pack and wrap services and next-day collections, meaning that arranging for IT equipment disposal and recycling of your redundant computers and mobiles has never been easier or more reliable.
What Devices Do ICT Reverse Collect?
We don't just take computers, laptops or mobiles off your hands. We can also collect and safely recycle any of the following devices:
Photocopiers
Printers
Fax machines
CRT Monitors
TFT Monitors
Terminals
Servers
Hard Drives
Data tapes
Networking equipment
Audiovisual equipment
UPS
EPOS
Testing equipment
Associated peripheral items
Electrical appliances
Book Your IT Equipment Collection Today
Contact ICT Reverse to schedule a collection time and date that is convenient for you by filling out our online form or by calling us on 01524 580 900.
If you are looking for laptop disposal you can find out how we can help your CSR report with our sustainability partnership.