World Earth Day: ICT Reverse to support spectacular Earth artwork exhibition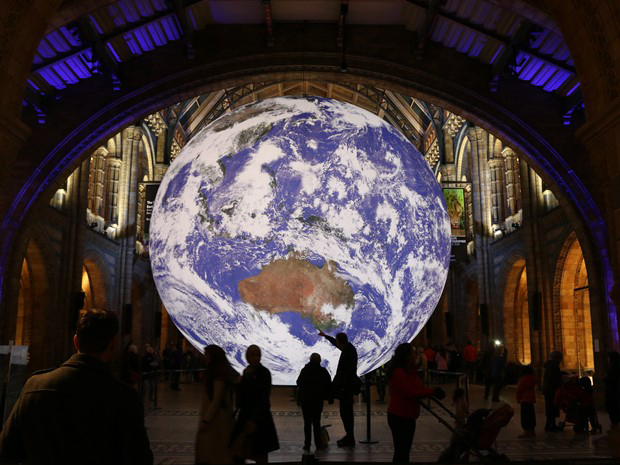 As part of its commitment to Earth Day, ICT Reverse is supporting plans to welcome the Earth to Lancaster Priory later this year.
The theme of this year's Earth Day is Invest In Our Planet. What Will You Do? And the city's oldest church is doing its bit by organising an extensive events programme focused around the visit of the spectacular Earth artwork – Gaia – this summer.
Measuring seven metres in diameter, Gaia – the personification of the Earth, according to Greek mythology – features the detailed NASA imagery of the earth's surface.
It is produced by Luke Jerram, the artist behind The Moon which visited the Priory in 2019. Gaia will revolve from the Priory's rafters from June 24-July 17 accompanied by events on the themes of community, nature, sustainability and home.
Craig Smith, Managing Director of ICT Reverse, said: "Sustainability and protecting the earth is an essential focus of both companies and we are proud to support the project which will be a big hit locally.
"It is a spectacular piece of artwork and we hope as many people as possible see Gaia while it's in Lancaster and enjoy the themed programme of events around it".
On the first Saturday, June 25, stalls and stands from local environmental groups signposting to events within the community will be outside the church.
Friday nights throughout Gaia's visit will see special music events including the popular Blue Moon Band on July 1 and a Night at the Opera on July 8. On the final Saturday night, July 16, the King's Men choral scholars from King's College, Cambridge, will perform.
Live music will also accompany Gaia on Thursdays while Wednesdays will see guest lectures, presentations and question and answer sessions. On Tuesday evenings, there will be opportunities to participate in Tai Chi and Qigong, and on Monday evenings, there's yoga sessions under the Earth sculpture. Other events planned include an art workshop, a quiz, and day-long activities with Sewing Café Lancaster and Relic Plastic.
To complement Gaia, an audio and film experience – Four Rivers – reflecting the sounds of Morecambe Bay produced by Syrian artist Aous Hamoud will take place in St Nicholas Chapel while the Regimental Chapel will be set aside for prayer and spiritual activities.
For more information on Gaia's visit and for booking details see lancasterpriory.org
What is Earth Day?
When Earth Day was established in 1970 it was the advent of the environmental movement and since then things have grown substantially, particularly in relation to the theme of corporate social responsibility and the business community's involvement in, and support for, not only Earth Day, but for making sustainability a central focus of investors, consumers and other stakeholders.
The theme this year is "Invest in Our Planet. What Will You Do?'' with the focus being on how we can all take action on climate change to preserve and protect our health, our communities, our families and our livelihoods.
Why is sustainability so important?
A sustainable movement is crucial for us all and ICT Reverse has had sustainability at the heart of its business model ever since we started more than 20 years ago. We understand the importance of implementing controls and processes to improve our environmental performance and help other people make the same improvements .
As a business we are recognised as one of the leading data disposal companies in the UK and specialise in anything from computers, smartphones and laptops to data tapes, hard drives and all other data-bearing devices.
But over the years we have also constantly developed our sustainability practices. We apply green thinking to the very core of our business, as we are fully committed to our 0% landfill and 100% data destruction policies. This means that when you recycle your business' technology with us, you can trust that our actions are responsible and in the best interests of planet Earth.
We can help you on your journey to go green with our safe and eco-conscious IT recycling.
Basically, we hate waste, so we also aim to provide a hassle-free service with our device pick-up services for complete IT asset management services. If you've recently invested in new technology and need to recycle old and outdated PCs, smartphones or laptops, you can trust us to get the job done with efficiency.
Starting your journey towards a green business often requires lots of small changes to the way you currently run your operation, but first and foremost it is a new mindset. Going green means being prepared to be innovative, as well as scrupulously analysing every aspect of your current business and asking the question – can we do this better?
One of the best things you can do is to recycle your company's electronic waste.
The third edition of the Global E-waste Monitor 2020 launched in July 2020 by the Global E-waste Statistics Partnership, provided a comprehensive insight into the global e-waste challenge.
It stated that a record 53.6 million metric tonnes (Mt) of e-waste – discarded products with a battery or plug such as computers and mobile phones – was reported generated worldwide in 2019, up 9.2 Mt​ (21 per cent) in five years.
The report also predicted global e-waste will reach 74.7 Mt by 2030, almost double the 2014 figure, fuelled by higher electric and electronic consumption rates, shorter lifecycles and limited repair options.
This is distressing because many electronics contain valuable metals that should be recycled and matters to us all because toxic and hazardous substances such as mercury, brominated flame-retardants (BFR) or chloroflurocarbons (CFCs) are found in many types of electronic equipment and pose severe risk to human health and the environment if not handled in an environmentally sound manner.
Therefore, by employing an eco-responsible mindset in your company, you could help to prevent expected rises in e-waste.
How can ICT Reverse help?
We can help you in this area and encourage fellow companies and businesses to step up and play their part in saving the planet. If you have electronic waste that needs disposing of safely and responsibly, why not contact us for more information about the services we offer and how we can help you to dispose of any e-waste you may have in the best way possible.
If you would like to know more about what we do at ICT Reverse got to our dedicated web page contact us for an informal chat about all areas of e-waste please contact us on 01524 580900 and we will be delighted to give you some advice and support.