World Earth Day 2022: What it means to ICT Reverse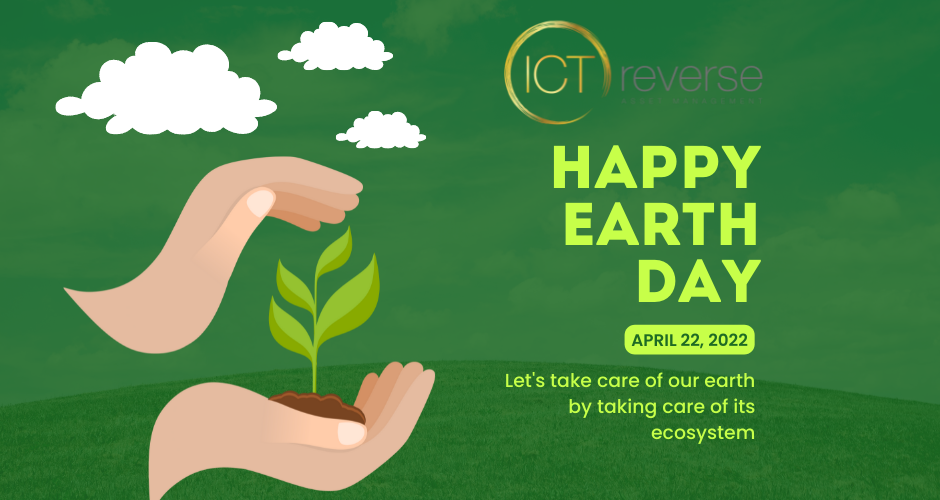 Friday is Earth Day, something that means a lot to us at ICT Reverse.
When Earth Day was established in 1970 it was the advent of the environmental movement and since then things have grown substantially, particularly in relation to the theme of corporate social responsibility and the business community's involvement in, and support for, not only Earth Day, but for making sustainability a central focus of investors, consumers and other stakeholders.
The theme this year is "Invest in Our Planet. What Will You Do?'' with the focus being on how we can all take action on climate change to preserve and protect our health, our communities, our families and our livelihoods.
A sustainable movement is crucial for us all and ICT Reverse has had sustainability at the heart of its business model ever since we started more than 20 years ago. We understand the importance of implementing controls and processes to improve our environmental performance and help other people make the same improvements .
As a business we are recognised as one of the leading data disposal companies in the UK and specialise in anything from computers, smartphones and laptops to data tapes, hard drives and all other data-bearing devices.
But over the years we have also constantly developed our sustainability practices. We apply green thinking to the very core of our business, as we are fully committed to our 0% landfill and 100% data destruction policies. This means that when you recycle your business' technology with us, you can trust that our actions are responsible and in the best interests of planet Earth.
We can help you on your journey to go green with our safe and eco-conscious IT recycling.
Basically, we hate waste, so we also aim to provide a hassle-free service with our device pick-up services for complete IT asset management services. If you've recently invested in new technology and need to recycle old and outdated PCs, smartphones or laptops, you can trust us to get the job done with efficiency.
Starting your journey towards a green business often requires lots of small changes to the way you currently run your operation, but first and foremost it is a new mindset. Going green means being prepared to be innovative, as well as scrupulously analysing every aspect of your current business and asking the question – can we do this better?
One of the most obvious problems in most businesses can be with their physical waste output, even in a paperless business. The snacks and products consumed by staff at work can quickly amount to a pile of waste. This waste can be easily avoided with some business-wide education about waste, followed by moving from single-use items to bulk buying with reduced packaging.
For example, switching out single-use coffee pods for a large tin will reduce a lot of waste, as will encouraging your staff to use recycling bins. If you feel that your business is too small to make the most of recycling bins, why not team up with nearby businesses for waste collection?
If you are having a huge office renovation, then you should consider the value of the things you are throwing away before it goes in general waste – can that unwanted patch of carpet be donated to the local homeless? Are those surfaces and goods truly of no use to anyone? Once you start applying this mentality to your process, you will find your business becoming far more efficient with its resources.
One of the best things you can do is to recycle your company's electronic waste.
The third edition of the Global E-waste Monitor 2020 launched in July 2020 by the Global E-waste Statistics Partnership, provided a comprehensive insight into the global e-waste challenge.
It stated that a record 53.6 million metric tonnes (Mt) of e-waste – discarded products with a battery or plug such as computers and mobile phones – was reported generated worldwide in 2019, up 9.2 Mt​ (21 per cent) in five years.
The report also predicted global e-waste will reach 74.7 Mt by 2030, almost double the 2014 figure, fuelled by higher electric and electronic consumption rates, shorter lifecycles and limited repair options.
This is distressing because many electronics contain valuable metals that should be recycled and matters to us all because toxic and hazardous substances such as mercury, brominated flame-retardants (BFR) or chloroflurocarbons (CFCs) are found in many types of electronic equipment and pose severe risk to human health and the environment if not handled in an environmentally sound manner.
Therefore, by employing an eco-responsible mindset in your company, you could help to prevent expected rises in e-waste.
We can help you in this area and encourage fellow companies and businesses to step up and play their part in saving the planet. If you have electronic waste that needs disposing of safely and responsibly, why not contact us for more information about the services we offer and how we can help you to dispose of any e-waste you may have in the best way possible.
If you would like to know more about what we do at ICT Reverse got to our dedicated web page contact us for an informal chat about all areas of e-waste please contact us on 01524 580900 and we will be delighted to give you some advice and support.