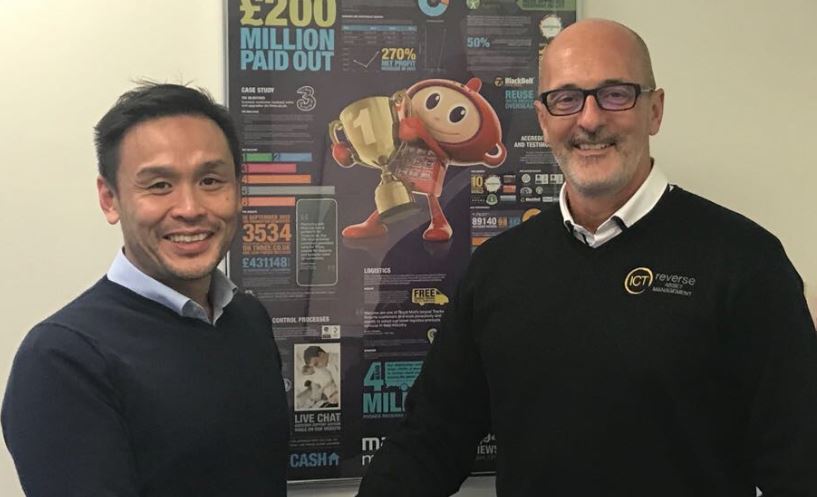 ICT Reverse's parent company EcoRenew has  announced the successful acquisition of Mazuma in their quest for global expansion.
Founded in Hong Kong in 2006 as a mobile refurbishment specialist, the group has witnessed exponential growth with operations now existing in Dallas, Tokyo, Manila, Morecambe, London and Dubai with an annual turnover projected to be in excess of $300m in 2018
Headed up by CEO Mark Chambers, the company is aggressively pursuing a multi-million pound expansion strategy as it builds a fleet of bases within Europe to complement its expanding product and services portfolio.
The acquisition of Mazuma comes just a few weeks after the successful purchase of data protection specialist ICT Reverse, with many more expected to come.
Demonstrating their ability to cater to both corporate and consumer demand, Mark and the team have carefully selected trusted and well established brands to add to their already impressive portfolio.
 All market leaders in their field and with over 1000 staff supporting a combined end user customer base of over 1m per year, EcoRenew can now offer an extensive range of services including data protection, asset recovery, consumer trading, repair, financial services and remanufacture solutions to their clients.
 Combined, they are now the first true 'end to end' solution, from a single company, within the IT and telecoms market without the complication of any 3rd party partnerships or joint ventures.
The business logic for combining these companies is undeniable.
ICT Reverse is a leading provider of information assurance and data destruction services across the corporate markets and has been busy securing market share within blue chips and FSTE 350 companies.
Mazuma, one of the UK's largest and most well-known B2C mobile phone take back providers has continued to provide the leading online solution to consumers for their mobiles devices for over 15 years.
A union between these former competitors is itself enough to raise eyebrows, but the growth potential is without question and just the first step in a very grand strategy which will be unveiled to the market in the first quarter of 2018.
Mark Chambers said of the team, "We are recruiting some of the industry's most experienced leaders and forward-thinking minds to develop unrivalled creativity, knowledge and innovation in the sector. The team has an unparalleled industry experience  and we are guided by that vision, which is something very unique".
John Lam, co-founder of Mazuma commented "Today's announcement with EcoRenew is another solid step in our journey to further cement our position as market leader in UK handset recycler market.  This partnership will help us deliver an even stronger proposition to our customers with the impressive set up at EcoRenew and also opportunities to expand to other parts of the world beyond UK and Australia.   It's the launch of a new and exciting chapter for Mazuma Mobile"
Chambers went on to say, "The intention is to grow the brand globally with a series of co-ordinated acquisitions per year and there will be further exciting announcements early in 2018"
"We'll invest heavily in these solutions and have plans to super charge the roll out through our existing global presence and infrastructure along the "belt and road "in the UAE, Europe, China, South East Asia and the US".
The speed and scale of these acquisitions are very likely to cause ripples in the industry, as EcoRenew look to capture dominant market share.