3 Risks of IT Disposal For You And Your Customers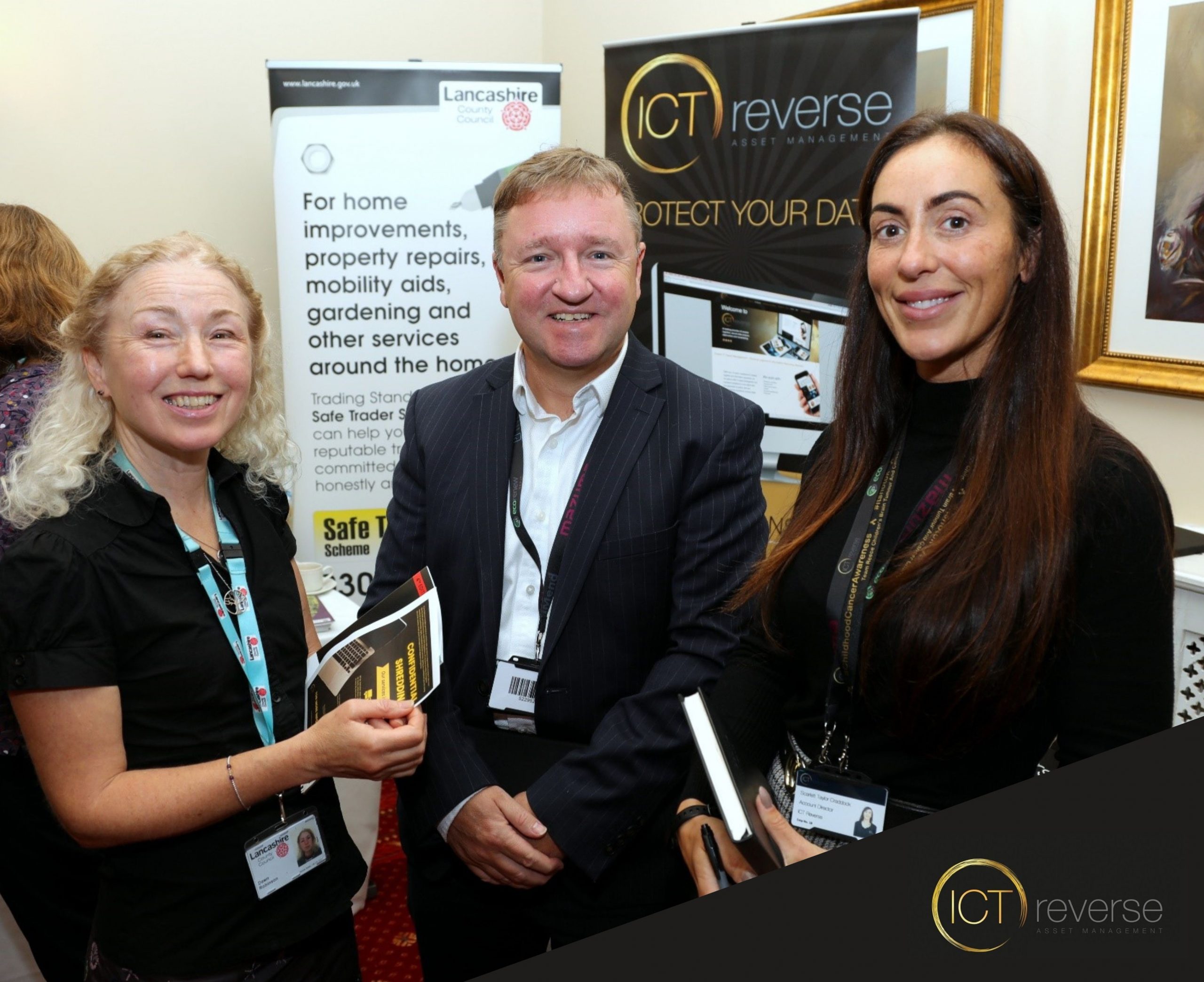 We recently attended a conference organised by the Lancashire Partnership Against Crime which focused on fraud awareness.
Fraud is a devastating crime and continues to be on the rise with victims left devastated by its effects.
It's essential that all companies remember that their approach to risk management should not stop when it comes to matters of IT asset disposal. Companies failing to take proper care to dispose of their IT assets properly risk running into multiple repercussions, both for themselves and their customers which can cause lasting damage to the business.
Here are the three risks you should be most clear of in terms of IT Disposal risk:
1. DATA BREACHES
Improperly disposing of IT assets can leave them vulnerable to recovery by data thieves, who will then be free to access the information stored on them. That information can range from vital business information and customer data, even to employee bank account details. Data breaches can be seriously costly for businesses – there is the risk of compensation, fines and legal costs, as well as the very real damage to your business' reputation.
2. ENVIRONMENTAL ISSUES
IT equipment is often built from materials that can be toxic to the environment if they're not handled properly during disposal. It's not a case of simply throwing your old hard drives into the bin to go to landfill. Not only is this a negligent thing to do, if your business is caught doing it there could be a risk of you falling foul of pollution penalties. These could be costly, and again cause considerable negative publicity for your business.
3. NON-COMPLIANCE
There are now many regulations that cover the way businesses are allowed to handle customer and employee data. This applies to how you deal with devices storing that data, as well as the destruction of said devices. Businesses have a legal obligation to ensure any devices that have been used to store sensitive data are disposed of in as responsible way as possible. The punishment varies depending on the extent of the violation but can be severe.
THE IMPORTANCE OF SPECIALIST ASSISTANCE
These are just three of the many risks that companies face by not properly disposing of their IT assets. The risks often carry potentially severe repercussions for organisations and individuals, yet they are so easily avoided. All you need to do is ensure that when it comes time to dispose of your IT assets, that you use a professional and reliable asset disposal specialist.
At ICT Reverse, we can offer a range of data disposal methods to fit your circumstances and your budget. All of which provide you with the peace of mind that comes from knowing your IT assets have been disposed of both thoroughly and responsibly.
We offer comprehensive hard drive destruction services that ensure your data is completely destroyed and 100% irretrievable. This offers you protection from data breaches and reduces the risk of financial and reputational damage arising from fraud or litigation. Our solid-state drive (SSD) and hard disk drive (HDD) destruction services are undertaken fully in line with all GDPR legislation and industry certifications, while our new sustainability initiatives mean we are proud to offer green IT disposal alongside our network partner Circular Computing™.
Our data destruction service includes:
On-site or off-site solutions to meet your requirements
Collections arranged at convenient times for your organisation
Certificates of destruction issued after every visit
Professional and experienced staff for your peace of mind
Cost-effective and competitive rates
ISO-accredited processing
Full compliance with GDPR
Contact Us to Learn More About Reducing Your IT Disposal Risk
Call us on 01524 580 900 or submit an enquiry if you require ICT Reverse's destruction services – your confidential information is secure with us. Find out more about what else we can offer including our hard drive destruction services.