How Can Data Shredding Keep your Business Legally Compliant?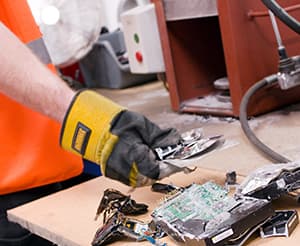 In the modern business world, computers have transformed the way we work, with less paperwork to file and more flexibility in how tasks are performed. One thing that has not changed, however, is the importance of efficiently getting rid of personal data that is no longer needed. All businesses need to find a way to do this that complies fully with the relevant law, which is where data shredding can help.

What is Data Shredding?
In terms of reverse logistics services, data shredding is the act of physically destroying an old hard drive or redundant IT equipment that has sensitive data on it. Many organisations make the mistake of believing that simply deleting the files is enough, but this is not true. Although they may have disappeared from the screen, cyber-criminals could still hack into the computer's processing units to access the data.
Although not the only way permanently ensure this happens, data shredding is certainly one of the most effective. By physically smashing the hard drive or IT equipment into pieces, a cyber-criminal has zero chance of ever gaining access to information they should not have.
Why is it so Important in Terms of Compliance for your Business?
Come March 2018, new GDPR laws will come into place that all businesses must follow. This will set out clear standards on how you store and dispose of clients' personal data on your IT systems. Failure to comply will be very serious and could lead to big fines. As such, finding a way to effectively dispose of old hardware that may have sensitive information on is a must to avoid any problems for your business.
Start Planning Now!
Most companies will have a few pieces of old IT hardware sitting around in a forgotten store-room or in the process of getting disposed of. The trouble is that if that room gets broken into and the hardware stolen, you will fall foul of current data protection laws and the new GDPR laws when they come into effect.
It is much better to take charge of the situation to eliminate any issues before they arise. By employing a professional and experienced reverse logistics services provider to shred your data, you can get ahead of the curve in this area.
Of course, the added bonus with doing this is that the valuable business space you are currently using for storing your old hard drives is released to be used more sensibly. After all, it is really a wise use of space to have a whole room full of redundant IT hardware that you could be using for something more profitable to your core business instead?
Let ICT Reverse Help
If you are thinking of shredding your old data then contact us today. We can discuss how to do this safely and effectively for you, either on or off-site. After your data is destroyed, we will issue you official certification that proves it has been done to the letter of the law. At ICT Reverse, our trained and dedicated team will make sure you are always on top of your data disposal responsibilities.